This promotional disc, aptly titled Promo EP, was released in the fall/winter of 2001 – an odd fucking thing to be scrambling to finish in the aftermath of 9/11, but well, that's what we were doin'. Josh had moved away and Shawn and I were trying to figure out if we were a band, a recording project, or a lost cause. This EP was an attempt to combine a holiday single with two new songs, and still have it work as a cheapo promotional item for our first album, 1999's Basement Make Out Party. Of the new material, only "Double Nothing" was a proper band song – "In The Snow" and "Monks" were more like bedroom recording projects, really. We got Mister Reusch to make us some super-cool screen printed cover art (assisted by Bob Maloney), and I hand-stamped the text onto 'em using a Print Gocco. I remember mailing out a whole bunch (basically promoting a band that no longer quite existed), and we got a bunch of decent reviews, which we then deftly followed up with a complete failure to get our shit together to play a live show until two years later (and even that was a short set at a tribute show). Granted, we barely played live anyway.
This EP is now available as a free/name-your-own-price download on bandcamp. Listen! Download! Give us money maybe! At the very least, the first two songs are crucial. Crucial!

---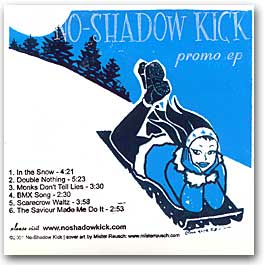 1.
In The Snow
– A down-and-out-of-tune holiday song. I think we recorded chunks of it in my apartment, and chunks in Shawn's. We got Jamie Gilb to record chorus vocals (even though at the time I wanted her listed in the credits as "Elizabeth Street" because I insisted on private jokes that only I got). She was giggling and drinking most of the time. I have some looped sampled beat stuff in there I quite liked, mixed low, original source undisclosed. Lyrics: I still like them quite a bit. Vocals: This was one of my first forays as a 'lead singer' where I wasn't hiding behind a vocal effect or burying my voice in the mix. I tried my best to embrace my flatness and badness. Music: I assume I wrote & played the bass/guitar bits, but I don't remember. As for the bridge – the magically upbeat and adorable and musical and practically a song unto itself bridge – well, that's 100% Shawn Reynolds – live horn and fake glockenspiel. The chime-y bells at the end are a nice touch, too – unintentionally (?) reminiscent of the beginning/end of
Big Black Smoke
by The Kinks. We never even tried to play this song live.
Says Shawn:
I hate my trumpet performance on In The Snow (tuning/intonation was all over the place) but like the overall effect. In spots, it is a very unaccomplished rip-off of some of the trumpet in
The Good, The Bad, and The Ugly
– so unaccomplished that nobody but me would probably recognize it.
2. Double Nothing – Personally, I think this is one of the best songs Josh ever wrote. I love how the main riff is just him hitting one chord with me changing under it. It was the last proper song we recorded with him, and I think the strongest indicator as to what the band would've sounded like moving forward. Shawn's drumbeat is weird and punchy punctuation. I love the mood shift around 2:35, and I love the mood shift around 3:00 even more. The song just builds and builds. The outro is big and cool (though I think we hit the ceiling of our recording abilities trying to capture that bigness).
A few years later we discovered that Kings Of Leon had written an undeniably musically-similar song (they released their song four years after ours, thank you very much), King Of The Rodeo, which we thought was funny, and Shawn eventually started mixing the riffs from both songs together when we rehearsed it in the basement. Says Shawn: This remains one of my favorite NSK songs. Josh thought my mixing/production on this recording was too slick, and looking back I agree with him (I was probably trying to cover up for some perceived weakness in the raw tracks). It was a much more muscular song live. And on a side note: it was sad when we played the Block Island gig with Sturgis and that one girl there who was a fan was disappointed that we didn't play this, as it was her favorite NSK song.
3. Monks Don't Tell Lies – From the original liner notes: "Expanding upon the Mike Watt metaphor of van-as-vessel, this song speaks of the modern quest for truth. The title is a line of dialogue from Fong Sai Yuk 2, and since a monk said it, it must be true." This song was a layered multi-track collage pieced together in Shawn's Easthampton apartment, recycling tracked drums and vocal parts from earlier sessions, I think. The end is sort of epic. I still really like the lyrics, and here I really like my flat vocals. This would later appear on 2005's Spatializing Sound In the Time Domain. Says Shawn: This is a great song and all sorts of weird. The outro is sort of silly but it works. There is another mangled, uncleared sample in this one, of which I will also not reveal the source.
4. BMX Song – If you've already gotten your free download of Basement Make Out Party, then you already have this instrumental. It still rocks. One of the busier bass lines I ever wrote. Says Shawn: This song was always fun and usually a crowd-pleaser. It was my favorite NSK song to play live, provided my arms had enough strength left in them to not drop my sticks. I took bizarre pride in drummers far better than me having trouble figuring out what the hell I was doing in certain spots. Note the (again, uncleared) sample of me playing Pac-Man during the bridge.
5. Scarecrow Waltz – Also off BMOP. Love that dry snare sound still. Slow chunk of bummer. Says Shawn: In many ways an atypical NSK song, this one for me represents the best marriage of material, performance, and production that we ever achieved. As "simplistic" as one reviewer called the lyrics, I've always thought they were wistful as hell and flat-out great. I would love this song no matter who made it.
6. The Savior Made Me Do It – A radio edit of the BMOP track (knocking almost 1:20 off the original's epic and meandering and pointless album-closing outro). It's sort of depressing that I'd want to include this song on the EP at all, because even back in '01 it was already old. And shit, nobody was gonna play it on the fucking radio anyways. Hope spranged eternal, I reckon. (And since we're talking about songs-that-sound-like-other-songs, this bass line is very much like Booker T's Red Beans And Rice. Didn't know it at the time). Says Shawn: One of the songs that launched the whole sorry enterprise, from the original pre-HAPPY demo tape. It was never far from the setlist, and we played it six ways to Sunday over the years — uptempo, downtempo, short and punchy, long drawn-out extendo jam… OK, make it four ways to Sunday. Fits like an old shoe, but not nearly as funky.
See also:
Reviews of The Promo EP
NSK on bandcamp
Official band site